Women's Economic Empowerment October 5, 2019, London, ON
Women's Economic Empowerment
October 5, 2019, London, ON

EVENT PHOTOS PANELLISTS FACILITATOR/EMCEE SPONSORS 
Click on a photo to enlarge and view the full description.
Panellists represent a cross-section of London industries:
 
 
 
 
 
 
 
Sandy Kirkwood-Pearce,
CGA, CPA, LPA
Partner, Chief Operations Officer
Baker Tilly Trillium LLP (London)
Sandy's Bio
 
Andrew Crook
Managing Partner and Broker
PC275 Realty Brokerage
Andrew's Bio
 

Melissa McInerney
CEO & Chief Creative Officer
tbk
Melissa's Bio

 
Courtney Hance
President
The Branding Firm Inc
Board President
London Chamber of Commerce
Courtney's Bio
Sponsors
The event was sponsored by BPW London, Canadian Coalition to Empower Women (CCEW), Women Offering Resources and Knowledge (W.O.R.K.), BPW Canada, Baker Tilly Trillium LLP and BDC. Also sponsored by Munn Conflict Resolution Services and SMC Performance Plus Consulting Services. 
Last Days of Summer II August 20, 2019 Ale House London 288 Dundas Street, London
My Smartphone: Friend or Foe?
My Smartphone: Friend or Foe?
Tuesday, July 17, 2018
Great evening! Thank you to everyone who attended and contributed to the evening. Wonderful interactions and learning. Photos from the evening.
The Presenters
| | | | | | | |
| --- | --- | --- | --- | --- | --- | --- |
| |   |   | |   | |   |
| Mary Beth Bezzina: MyNotables a simple sharable note and to-do list app that requires minimal effort and time to learn, set-up and use. |   |   | Katie Cole, Medway High School teacher, and Media Education Specialist. Katie will explain security and protection while using your smartphone. She is committed to helping parents, educators, and students interact safely and positively online.  |   | Jennifer Gall, Something Simple: Social media, hashtags, tagging – everything you should know about posting. |   |
The Proceeds 
Proceeds from the evening were distributed to 3 charities selected by each presenter:
The Evening 
Last Days of Summer
Last Days of Summer
August 21, 2018
Thank you to all who attended. It as a great evening with a lot of new connections made and some re-connections, too!
2018 Holiday Social Fundraiser
Thank you to the BPW London members and friends who attended our 2018 Holiday Social Fundraiser.  As you can see from the photos below, fun was had playing BPWL Icebreaker Bingo. 
2018 Gourmet BBQ
BPW London's 10th Annual
Gourmet BBQ Social and Fundraiser
June 19, 2018

For 10 years, BPW London member, Carole Orchard has hosted the Gourmet BBQ Social & Fundraiser and been the main "chef". This year was Carole's last bbq, as she will retiring and starting a new chapter in her life. Carole has opened up her home, her cookbooks and her generosity to BPW London over the past 10 years. She's had many helpers over the years but her "I couldn't have done it without…" helpers have been BPW London member Jeannette Veenstra and her husband, Wes. Jeannette and Wes have helped make burgers, helped set up and cleaned-up and for 10 years have been in charge of bbq'ing the burgers. Through the years this trio has smiled their way through bbq malfunctions, frozen burgers, rain, wind, humidity and darkness. Carole, Jeannette & Wes – thank you! For 10 years, the three of you have pulled together and presented us with a feast! The bbq has been one of the main fundraisers for BPW London, and the dedication of the three of you, and many others have helped make the event a successful fundraiser for the club and a truly fun evening.
The Menu
The Appetizers
Charred Eggplant Dip with Quick Quinoa Crackers (GF, DF)
Crostini with Sun-Dried Tomato Tapenade (GF, DF)
Pizza Pinwheels
The Salads
Apple, Dried Cherry, Salad with Maple Dressing (GF)
Mango & Snow Pea Salad (GF, DF)
Smokey Green Salad with Creamy Almond Dressing (GF)
The Burgers
Coffee-Rubbed Cheese Burgers with Texas BBQ Sauce (GF)
Herb & Cranberry Turkey burgers with Caraway Slaw (GF)
Lamb & Bacon Burgers with Spiced Aioli
Curried Pork Burgers (GF)
Sweet Potato Falafel Burgers (GF)
The Desserts
Lemon Pistachio Meringue Crunch (GF, DF)
White Chocolate Cranberry Mousse Tart
Black Forest Mousse Parfaits (GF)
Trio of Sorbets (GF, DF)
2018 Euchre Tournament
BPW London's
Progressive Euchre Tournament
BPW London's First Annual Euchre Tournament was April 26, 2018.
Stay tuned to this page for news on BPW London's next Euchre Tournament.
Click here for information regarding the tournament's proceeds.
2018 BPW London Garage Sale
Thank you to all who donated, volunteered and purchased!
2017 Gourmet BBQ
BPW London's
Gourmet BBQ Social and Fundraiser
June 20, 2017
Despite the rain, the 9th Annual BPW London BBQ was a lot of fun and a great success. Special thank you to our team of Carole Orchard –  hostess & chef, Jeannette & Wes Veenstra – The Grillers, Norma Yau, Pattie-Makers: Roberto Gomez and Manda Ivezic and all that attended to make the evening a lot of fun and a success. 
The Fundraiser

Congratulations to BPW London member, Brenda Carpenter, as she won the "Summer Slosh Bucket" – this is Brenda's second year in a row to win "The Bucket". 
The Menu
Appetizers
Stuffed Leek Parcels with Avgolemono Sauce
Curried Lentil Dip with raw veggies
Sesame Almond Satay Dip
Salads 
Spring Salad with Honeyed Rhubarb and Goat Cheese
Baby Greens and Fruit with Lime Vinaigrette
Spinach Salad with Fennel and Blood Oranges
Burgers
Portobello Burgers with Pesto, Provoline, and Roasted Peppers
Napa Valley Cabernet Burgers
Blueberry Turkey Burgers
Fresh Salmon Burgers with Tarragon Mayonnaise
Fiery Pork and Shrimp Burgers
Open-face Lamb Burgers with Pistachio-Apricot Relish
Desserts
Lemon Pistachio Meringue Crunch
Mango Mousse
Peanut Butter & Raspberry Brownies
Lemon and Orange Sorbets in Citrus Cups 
2016 Workplace Harassment/Violence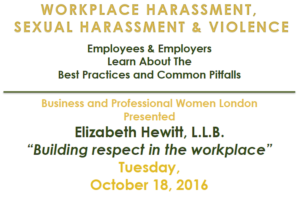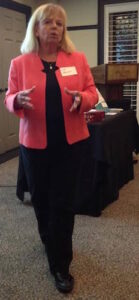 2016 Women's Lifestyle Show
BPW London and the Women's Lifestyle Show
Thank you to all who visited the BPWL London booth at the 2016 Women's Lifestyle Show. And, thank you to all the BPW London members who volunteered their time at the show: Winn Barnett, Brenda Carpenter, Linda Davis, Marlene Powner, Karen Fuller, Karen Moffatt, Kathryn Munn and Carole Orchard.
2016 Gourmet BBQ
BPW London's
Gourmet BBQ Social and Fundraiser
June 21, 2016
Great time was had by all attendees. Thank you to Carole Orchard for hosting the fundraiser, Norma Yau and Roberto Gomez for helping Carole mix and roll the burgers and Jeannette and Wes Veenstra for tending the bbq.
The Fundraiser 

Congratulations to BPW London member, Brenda Carpenter, who won the draw for the "Summer Slosh Bucket".
The Menu
Appetizers
Smoked Salmon Topped Green Onion Pancakes
Beet Chickpea and Almond Dip with Pita Chips
Salads 
Baby Spinach and Raspberry Salad
Honey-Roasted Pear Salad with Thyme Verjus Dressing
Fig and Farro Salad with Mint
Burgers
Grilled Hamburgers with Sour Cream and Herbs
Maple Barbecued Pork Burgers
Turkey Burgers with Chipotle Tartar Sauce
Spiced Lamb Burgers
Sweet Potato and Avocado Burgers
Desserts
Frozen Nanaimo Cake
Lemon Curd Mousse with Toasted Coconut and Blueberries
Rhubarb-Marcarpone Mousse Cake
All food was prepared by our Gourmet Chef Carole Orchard. And, Jeannette & Wes Veenstra was our 2 main bbq'ers.  Roberto Gomez was the libations dispenser.
2018 BBQ: BPW London's 10th Anniversary Gourmet BBQ is June 19, 2018. This will be Carole Orchard's last year 
2015 Women's Build Program
BPW London is a sponsor of the Habitat for Humanity Women's Build in London, ON.
The Women's Build is compromised of 40 teams of 10 women. BPW London's team name is Building Powerful Women. Team Members: Winn Barnett (Captain), Karen Fuller, Karen Moffatt, Joan Ousey, Mary Beth Bezzina, Linda Davis, Brenda Carpenter, Kamini LeCapelain, Jennifer Boone and Koreen Melnick.
The Women's Build is not about excluding men but including women. Join 400 women building to end poverty. Raising $2500 per team = one house. 
BPW London's build day was February 12, 2015.
Questions regarding Build contact Winn Barnett.
2015 Kate Lines - Crime Seen
BPW London and Kate Lines
Author of Crime Seen
BPW London presented a great event on November 4, 2015: Kate Lines – CSI Comes to London. Thank you to all the volunteers, attendees, sponsors and Kate Lines for making the event a success.
Below are some photos from the day. Photos courtesy Kamini LeCapelain of Silent Poetry.
2015 All-Candidates Meeting
Are You Ready For the Federal Election?
Be Informed 
All-Candidates Meeting
Thank you to the candidates, the volunteers and participants who attended the All-Candiates Meeting on September 30, 2015. BPW London partnered with Women & Politics London to host the event. The meeting was a World-Cafe event with attendees moving from table to table to talk to each candidate in their riding.
CTV London News reported on the event, click here to view the video report.
2014 Bridges Out of Poverty
BPW London Presents
Thank you to all who attended Bridges Out of Poverty and the sponsors! The day was a great success with the added bonus of participants donating over 170 pair of socks to support the Unity Project (provides emergency shelter and transistional housing and supports self-help for those struggling and trying to escape and avoid homelessness).
Below is a photo of BPW London members who attended the workshop with Bridges trainer, Martine Creasor at the far right.
One-day workshop was delivered by
Martine Creasor, Certified Bridges Trainer
Friday, March 21, 2014
Gain a deeper understanding of the challenges and strengths of people living in poverty. This one-day workshop based on the work of Dr. Ruby Payne, PhD will help you partner with individuals to create opportunities for success. You will:
Examine the impact of poverty on families;
Explore the hidden rules of economic class;
Identify ways to improve relationships;
Develop new tools to better address individuals' needs.
2014 Anago - Youth at Risk
BPW London Presents an Evening with
Anago Executive Director Mandy Bennett
It's 11 O'Clock…Do You Know Where Your Children Are?
At Risk Youth – How Anago Leads Them to a Better Place
…from Bees to Angels to Renovations how our community raises its young women
May 20, 2014
When: Networking/Registration: 6:00—6:30 p.m.; Dinner/Event:  6:30 p.m.
Where: 200 Collip Circle, Windermere Manor, London, ON
Pre-registration is required: [email protected] Deadline – May 15, 5:00 p.m.
Fee: $35 for BPW London members and $40 for guests

Learn more about Anago by visiting their web site, click here.
Questions: Contact BPW London.
Click here to download event poster.
2013 Determined - The Queen's Daughter
Determined: Surviving Your Worst Nightmare. Melissa McCormick shared her story of beinggang-rapedd and kidnapped at the age of 19 and turning her experience into "The Queen's Daughter Mission": support victims of sexual and domestic violence, educate, share and set an example. Melissa defied the odds to become a successful entrepreneur, motivational speaker, advocate and award winner.
Complete details: click here to download the flyer.
Check out Melissa's Canadian best selling book "The Queen's Daughter" at www.queensdaughter.net and the movie based on her book called "Determined" at www.emotivefilms.ca.