Resolutions and Commendations
Resolutions: Giving Women the Power of Voice
"Through our collective energy, well researched, written and presented resolutions can bring us closer to equality for women."
BPW ONTARIO BRIEFS BPW CANADA BRIEFS
Resolutions are the foundation of BPW. They help to increase our awareness and understanding of issues affecting women at a local, provincial, national and international scale. Ontario resolutions can be searched via the BPW Ontario Resolution Database and National resolutions via the BPW Canada Resolution Database.
Resolutions are used to make a positive change by engaging decision-makers in dialogue to shape legislation and make process and policy changes that can improve the social, economic, political and employment status for women.
This dialogue is often initiated when a brief is compiled outlining the issues that have been debated and approved by the membership at either the annual Provincial Conference or National AGM /Convention.
Members occasionally approve Commendations for individuals and/or organizations that support our mission and mandate and work to help move our agenda forward. Commendations can be presented by all levels of BPW.
BPW London's National Resolutions
Recognizing Heart Disease in Women – 2020
Research Grants for Women and Heart Disease (Reaffirming 1994 Resolution) – 2020
Ease of Access and Viewing of Online Violent and Degrading Sexually Explicit Material – 2018
Impact of CRA RRSP requirements on Women working beyond 71 Years of Age – 2017
Domestic Treatment Courts for Men who abuse Women – 2017
Elimination of Prostitution – 2014
Dealing with Culture-Based Abuse of Women – 2012
Combatting Human Trafficking in Canada – 2010
Sisters in Spirit, Native Women's Association in Canada – 2010
Human Trafficking – 2006
Recruitment of Foreign Nurses – 2005
Purification and Protection of Drinking Water – 2005
Public Health Screening – 2004
Exploitation of Young Females in the Sex Trade Industry – 2000
View London's and other BPW Canada clubs' National Resolutions, click here.
BPW London's Provincial Resolutions
Promoting Education on Heart Disease in Women – 2020
Elder Abuse and Violence in Long-Term Care Facilities – 2019
Providing Education to Youth, Parents and Caregivers of Students about Human Trafficking – 2019
Providing Housing to Under 18 Years of Age Victims of Human Trafficking – 2019
Resident-to-Resident Abuse and Its Impact on Women Living in Long-term Care Facilities – 2018
Funding for Community Services to Support Sentencing Options for Men Convicted of Domestic Abuse – 2017
Options to Facilitate Education for Single Mothers – 2013
Moving Working Poor Women Out of Poverty – 2012
Combating Human trafficking – 2010
Ministry of Education – Gender Studies Curriculum – 2010
Child Sex Tourism – 2008
Human Rights Bill 107 Structure, Accessibility and Support – 2008
Long Term Care Facility Funding – 2006
Ontario Arbitration Act – 2005
Purification and Protection of Drinking Water – 2004
Community Care Access Centres – 2002
Exploitation of Women and Children in the Sex Trade Industry – 2000
Second Stage Housing – 2000
Sexual Harassment-1999
Female Offenders – 1998
Breast Cancer Research Organizations – 1997
Dangerous Offenders – 1997
Sexual Harassment – 1997
Elections Ontario Elections Finances Act – 1993
Amendment to the Occupational Health and Safety Act – Pregnant Workers 1997
Extension of Franchise Residence Requirements to Vote – 1957
View London's and other BPW Ontario clubs' Provincial Resolutions, click here.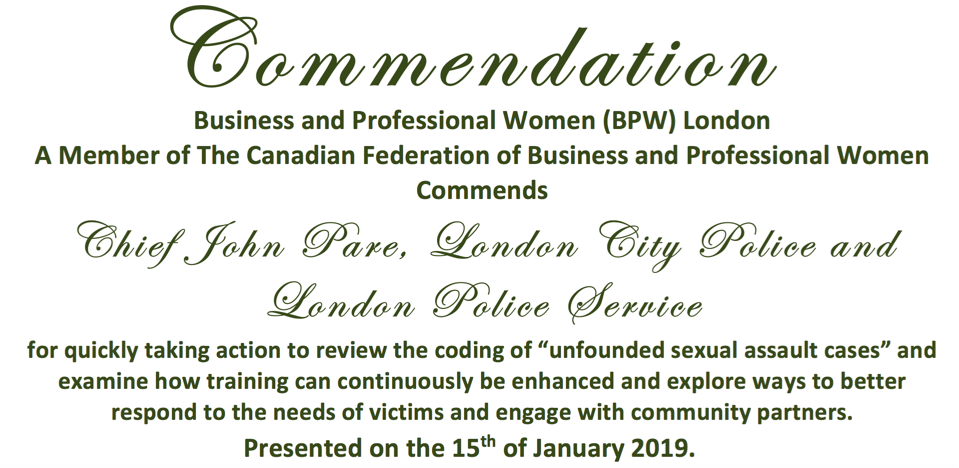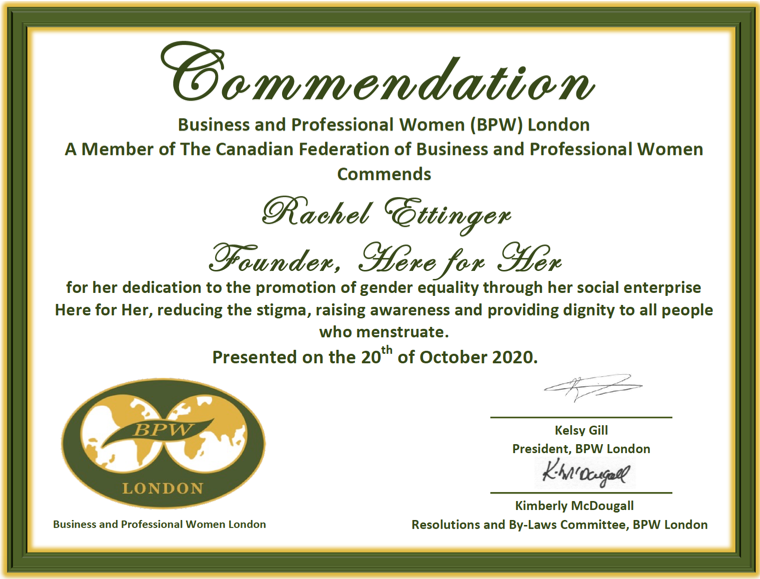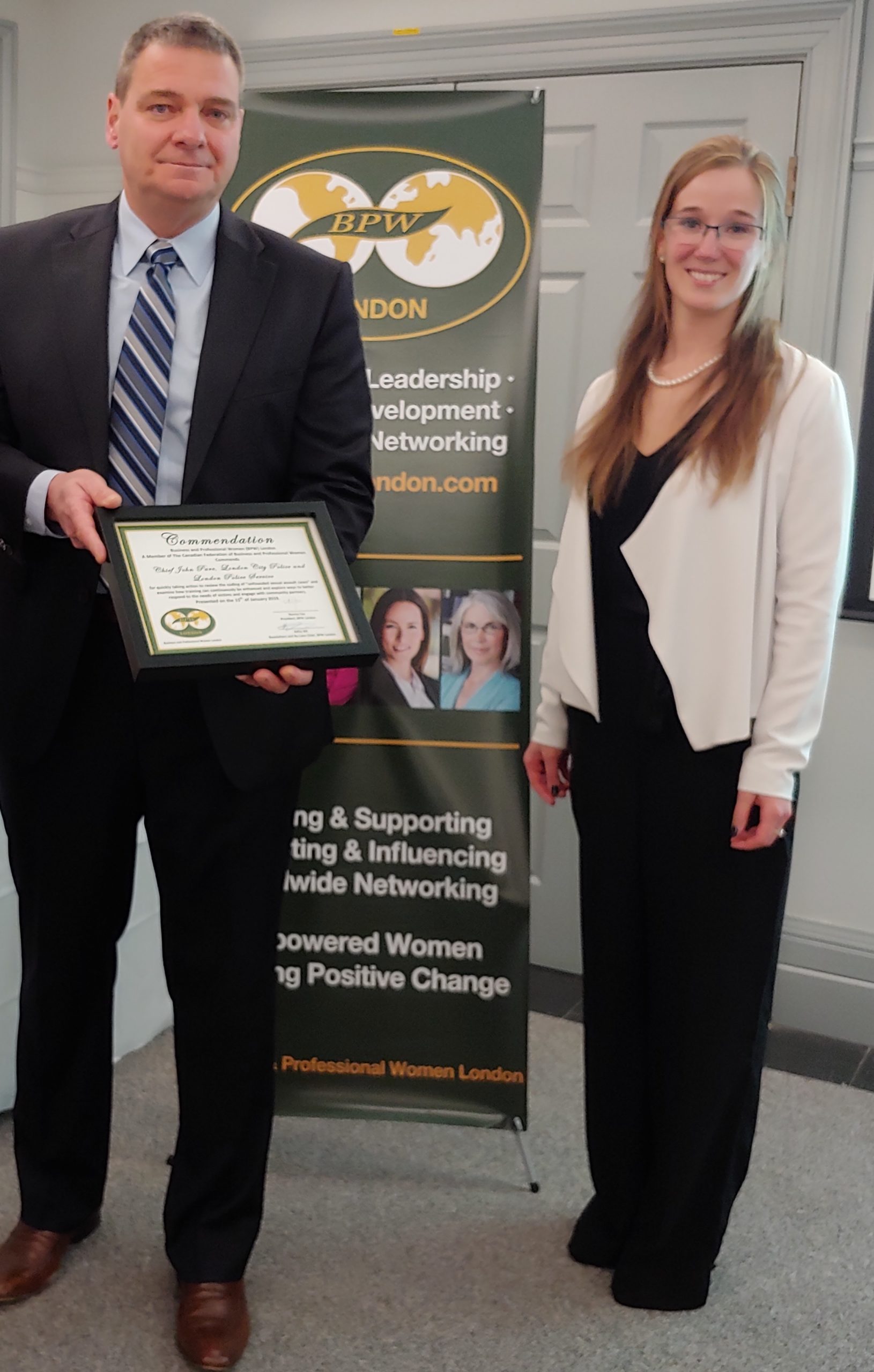 Commendation: London Police Service
Chief John Pare, London Police Service;
Kelsy Gill, BPW London Resolutions/Commendations Chair
January 15, 2019